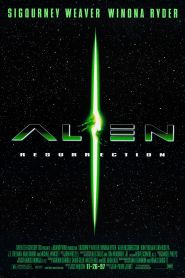 General Information
Glossary: A
Released Year: 1997
Runtime: 109 minutes
Genre: Action, Sci-Fi, Thriller
Directors: Jean-Pierre Jeunet
Casts: Dan Hedaya, David St. James, Sigourney Weaver, Leland Orser, Brad Dourif, Ron Perlman, Gary Dourdan, Winona Ryder, Michael Wincott, Raymond Cruz, Tom Woodruff Jr., Alex Lorre, Steven Gilborn, Daniel Raymont, Cris D'Annunzio, Nito Larioza, Dominique Pinon, J.E. Freeman, Marlene Bush, Carolyn Campbell, Kim Flowers, Nicole Fellows, Rod Damer, Robert Faltisco, Rico Bueno
IMDB: Alien: Resurrection (1997)
Sponsored Links
Ratings
User Rating:
IMDB Rating:
6.2
Reviews
Entertainment Weekly

-

By rocketing ahead 200 years from the previous film and jiggering the story cleverly (with a script by Toy Story coscreenwriter Joss Whedon as late-'90s wiseacreish as Alien3 was early-'90s portentous) to create a Ripley reconstructed through a mix of human and alien DNA, Alien Resurrection power-kicks the whole definition of the Horrifying Other into a fresh, deep, exhilaratingly thoughtful, millennium-sensitive direction. [5 Dec 1997, p. 47]

The Globe and Mail (Toronto)

-

Jeunet manages a terrific pass in an extended underwater sequence, but, beyond that, he runs out of ideas as we run out of patience.

Dallas Observer

-

Weaver is able to take a schlock conception and turn it into a tour de force. Sky-high and straight-backed, she's imperiously graceful in this film; at times she resembles Martha Graham in the swooping, lyrical severity of her movements.

Film.com

-

So campy that it almost plays like a sendup of the series. It is to Alien what "The Bride of Frankenstein" was to other 1930s Frankenstein movies, and it even shares some of the same themes.

Newsweek

-

Under the reins of Jean-Pierre Jeunet ("Delicatessen"), the Alien franchise has lost none of its taste for acid-spewing, flesh-impaling, entrail-dripping gore.
Alien: Resurrection (1997)
Two hundred years after Lt. Ripley died, a group of scientists clone her, hoping to breed the ultimate weapon. But the new Ripley is full of surprises … as are the new aliens. Ripley must team with a band of smugglers to keep the creatures from reaching Earth.