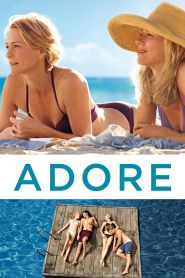 General Information
Glossary: A
Released Year: 2013
Runtime: 100 minutes
Genre: Drama
Directors: Anne Fontaine
Casts: Robin Wright, Naomi Watts, Xavier Samuel, Ben Mendelsohn, Rowan Witt, Alyson Standen, Gary Sweet, Richard Huggett, Sophie Lowe, James Frecheville, Jessica Tovey, Dane Eade, Charlee Thomas, Scott Pirlo, Isaac Cocking, Drew Fairley, Sally Cahill, Katrina Norman, Genevieve Hegney, Maya Stange, James McFay, Matt Levett, Bianca Bateman
IMDB: Adore (2013)
Sponsored Links
Ratings
User Rating:
IMDB Rating:
6.2
Reviews
The Guardian

-

An incredibly provocative piece of work, featuring a brave and vulnerable performance by Naomi Watts (who seems perhaps a little too young) and a career-high acting masterclass from Robin Wright (who is cast perfectly).

McClatchy-Tribune News Service

-

As edgy female wish-fulfillment fantasy, showing that fantasy's consequences, Adore engrosses and engages, never titillates and never betrays even the tiniest hint of revulsion.

Time Out

-

You can barely stifle a laugh, and the way Wright and Watts deliver rote, morally searching dialogue with deer-in-the-headlights stoicism ("We've crossed a line," Lil blankly notes) doesn't help matters.

Los Angeles Times

-

It's a challenging film, but maybe not as challenging as it should be.

The A.V. Club

-

The setup promises more intrigue than the film ultimately delivers.
Adore (2013)
Lil and Roz are two lifelong friends, having grown up together as neighbors in an idyllic beach town. As adults, their sons have developed a friendship as strong as that which binds their mothers. One summer, all four are confronted by simmering emotions that have been mounting between them, and each find unexpected happiness in relationships that cross the bounds of convention.