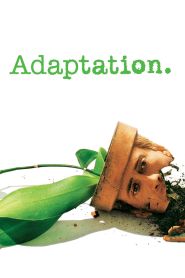 General Information
Glossary: A
Released Year: 2002
Runtime: 114 minutes
Genre: Comedy, Crime, Drama
Directors: Spike Jonze
Casts: Meryl Streep, Bob Stephenson, Nicolas Cage, Judy Greer, John Malkovich, Maggie Gyllenhaal, Donald Dowd, Brian Cox, Gregory Itzin, Doug Jones, Ron Livingston, Curt Clendenin, Chris Cooper, Jim Beaver, Curtis Hanson, John Cusack, Gary Farmer, Tilda Swinton, Cara Seymour, Jay Tavare, Litefoot, Roger Willie, Peter Jason, Sandra Lee Gimpel, Lisa Love, Catherine Keener
IMDB: Adaptation. (2002)
Sponsored Links
Ratings
User Rating:
IMDB Rating:
7.7
Reviews
Miami Herald

-

In a larger sense, Adaptation is a movie about the simple act of enjoying life -- of really embracing it -- without constantly worrying about what others think.

Washington Post

-

Surely the most creative trick of the year and grimly funny throughout.

Rolling Stone

-

Screenwriting this smart, inventive, passionate and rip-roaringly funny is a rare species. It's magic.

Entertainment Weekly

-

The notion of meta has never been diddled more mega than in this giddy Möbius strip of a movie, a contrivance so whizzy and clever that even when it tangles at the end, murked like swampy southwestern Florida itself, the stumble has quotation marks around it.

Salon

-

A highly enjoyable failure, a quandary that can't resolve itself.
Adaptation. (2002)
A love-lorn script writer grows increasingly desperate in his quest to adapt the book 'The Orchid Thief'.