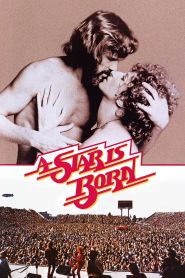 General Information
Glossary: A
Released Year: 1976
Runtime: 139 minutes
Genre: Drama, Music, Romance
Directors: Frank Pierson
Casts: Paul Mazursky, Kris Kristofferson, Robert Englund, Barbra Streisand, Sally Kirkland, Aesop Aquarian, Susan Richardson, Susan Richardson, Tony Orlando, Gary Busey, Bill Graham, Sandy Helberg, Maidie Norman, Oliver Clark, Marta Heflin, M.G. Kelly, Joanne Linville, Venetta Fields, Clydie King, Rita Coolidge, Roslyn Kind
IMDB: A Star Is Born (1976)
Sponsored Links
Ratings
User Rating:
IMDB Rating:
6.4
Reviews
Variety

-

The new A Star Is Born has the rare distinction of being a superlative remake. Barbra Streisand's performance as the rising star is her finest screen work to date, while Kris Kristofferson's magnificent portrayal of her failing benefactor realizes all the promise first shown five years earlier in Cisko Pike.

Slant Magazine

-

The film is equal parts I Will Survive and pop martyrdom, instigated by a star so enormous that she could likely bankroll the Department of Defense for the year of 1976 and still have money left over.

The Hollywood Reporter

-

The movie falls short of greatness, but it compares more than favorably not only with the usual concert film (good as a few of them are) but also with the current love stories on film.

Chicago Sun-Times

-

I enjoyed a lot of A Star Is Born. I thought Miss Streisand was distractingly miscast in the role, and yet I forgave her everything when she sang.

The New York Times

-

Streisand never plays to or with the other actors. She does A Star Is Born as a solo turn. Everybody else is a back‐up musician, which is okay when she's belting out a lyric, but distinctly odd when other actors come into the same frame.
A Star Is Born (1976)
Drunken, has-been rock star John Norman Howard falls in love with unknown singer, Esther Hoffman, after seeing her perform at a club. He lets her sing a few songs at one of his shows and she becomes the talk of the music industry. Esther's star begins to rise, while John's continues to fall. She tries desperately to get John to sober up and focus on his music, but it may be too late to save him.