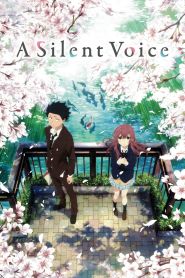 General Information
Glossary: A
Released Year: 2016
Runtime: 130 minutes
Genre: Animation, Drama
Directors: Naoko Yamada
Casts: Miyu Irino, Aoi Yuki, Megumi Han, Saori Hayami, Kensho Ono, Yuki Kaneko, Yui Ishikawa, Toshiyuki Toyonaga
IMDB: A Silent Voice (2016)
Sponsored Links
Ratings
User Rating:
IMDB Rating:
8.2
Reviews
IGN

-

The film's brilliant pacing and expertly woven narrative deliver an empowering story that will stick with you long after the credits roll.

The Verge

-

A Silent Voice didn't necessarily demand to be an animated feature. But because KyoAni's creators are able to put so much expressiveness into the characters, it communicates much of what they're feeling without words.

Time Out London

-

Yamada's creative direction shows a filmmaker with a distinctive way of looking at the world, following in the footsteps of other maverick Japanese talents like Ozu, Kitano and Miyazaki. Yep, she's that good.

Total Film

-

Viewing the heightened emotion and drama of adolescence with an unjudgemental eye, it's a reminder that schooldays are always the best.

The Telegraph

-

Yamada makes a point of contrasting the agonising complexity of high-school life with the clean simplicity of the moments that really count: hushed conversations on a bridge in springtime, a shared roller-coaster ride under empty blue skies.
A Silent Voice (2016)
Shouya Ishida starts bullying the new girl in class, Shouko Nishimiya, because she is deaf. But as the teasing continues, the rest of the class starts to turn on Shouya for his lack of compassion. When they leave elementary school, Shouko and Shouya do not speak to each other again... until an older, wiser Shouya, tormented by his past behaviour, decides he must see Shouko once more. He wants to atone for his sins, but is it already too late...?