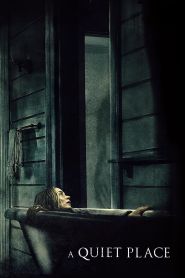 General Information
Glossary: A
Released Year: 2018
Runtime: 91 minutes
Genre: Drama, Horror, Sci-Fi, Thriller
Directors: John Krasinski
Casts: John Krasinski, Emily Blunt, Leon Russom, Doris McCarthy, Rhoda Pell, Noah Jupe, Millicent Simmonds, Cade Woodward, Evangelina Cavoli, Ezekiel Cavoli
IMDB: A Quiet Place (2018)
Sponsored Links
Ratings
User Rating:
IMDB Rating:
7.7
Reviews
The Hollywood Reporter

-

A terrifying thriller with a surprisingly warm heart, John Krasinski's A Quiet Place is a monster-movie allegory for parenting in a world gone very, very wrong.

RogerEbert.com

-

A Quiet Place shreds the nerves, but it does so in a way that feels rewarding. You don't just walk out having experienced a thrill ride, you walk out on a high, the kind of high that only comes from the best horror movies.

The Verge

-

The film hits all the necessary beats for a straightforward horror film in an eerie post-apocalyptic setting. But it's more effective as a portrait of four people who have constructed a deceptively peaceful life under the constant, inescapable threat of death.

IndieWire

-

Utilizing the pure physicality of a cast you can count on one hand, the movie maintains a minimalist dread throughout, with every footstep or sudden move carrying the potential for instant death.

IGN

-

It'll probably remind you of Jurassic Park mixed with Cloverfield, plus a dash of Aliens and a pinch of Buffy's "Hush," but between its unique approach and gleeful desire to shock you, you can't really be mad at it.
A Quiet Place (2018)
A family is forced to live in silence while hiding from creatures that hunt by sound.