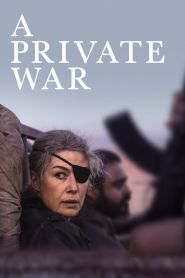 General Information
Glossary: A
Released Year: 2018
Runtime: 106 minutes
Genre: Drama, War
Directors: Matthew Heineman
Casts: Rosamund Pike, Corey Johnson, Stanley Tucci, Raad Rawi, Tom Hollander, Nikki Amuka-Bird, Jamie Dornan, Fady Elsayed, Pamela Betsy Cooper, Jérémie Laheurte, Pano Masti, Hilton McRae, Michael Haydon, Rudy Valentino Grant, Kishore Bhatt, Faye Marsay, Helen Iesha Goldthorpe, Gurnita Kaur Kahlon, Alexandra Moen, Manoj Anand, Jesuthasan Antonythasan, Michèle Belgrand, Amanda Smith, Bharat Mistri, Imogen King, Ian Morine, Natasha Jayetileke, Faraz M. Khan, Gina Morrish, Angela Yeoh, Nadeem Srouji, Xavier Gomez, Emil Hajj, Wissam Tobaileh
IMDB: A Private War (2018)
Sponsored Links
Ratings
User Rating:
IMDB Rating:
6.7
Reviews
Variety

-

A Private War manages to be simultaneously appalled by the humanitarian crises it depicts...and honest about the thrill that visiting such hot spots offered to someone who found it hard to readjust to her life in London between assignments.

The New York Times

-

Anchored by Rosamund Pike's powerhouse lead performance, this restive, raw movie slowly accumulates the heft to render its flaws irrelevant.

Wall Street Journal

-

The most compelling reason to see A Private War is Rosamund Pike's stunning performance as Marie Colvin, the American war correspondent who died in a bombardment while covering the Syrian government's 2012 siege of Homs.

Entertainment Weekly

-

By the time the narrative comes to Colvin's greatest get — she was essentially the first Western journalist to get inside Homs and refute Syrian President Bashar al-Assad's bold-faced lie that he wasn't bombing his own people into oblivion — the price of that sacrifice, and the power of her story, feels finally, fully real. Whatever her private battles, War works hard to be the public reckoning her work deserves.

IndieWire

-

A Private War resolves as such an effective memoir because even in its most clichéd moments — of which there are many — it resists easy psychoanalysis.
A Private War (2018)
One of the most celebrated war correspondents of our time, Marie Colvin is an utterly fearless and rebellious spirit, driven to the frontlines of conflicts across the globe to give voice to the voiceless.