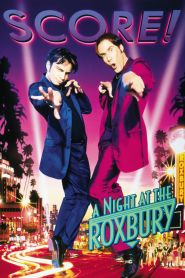 General Information
Glossary: A
Released Year: 1998
Runtime: 81 minutes
Genre: Comedy
Directors: John Fortenberry
Casts: Molly Shannon, Will Ferrell, Chris Kattan, Michael Clarke Duncan, Elisa Donovan, Gigi Rice, Jennifer Coolidge, Eva Mendes, Richard Grieco, Loni Anderson, Dan Hedaya, Dwayne Hickman, Lochlyn Munro, Chazz Palminteri, Raquel Gardner, Colin Quinn, Kip King
IMDB: A Night at the Roxbury (1998)
Sponsored Links
Ratings
User Rating:
IMDB Rating:
6.2
Reviews
Washington Post

-

I will admit that this TV skit stretched out to a filament-thin 83 minutes is idiotic, but I mean that in a good way.

Variety

-

The track record of SNL-drawn movies is dire ("It's Pat," "Stuart Saves His Family," "Blues Brothers 2000"), and this one stands just a peg higher, as an amiable, if flyweight, di-version.

Los Angeles Times

-

Kattan and Ferrell do their best to fill out the shallow Butabis.

TV Guide Magazine

-

Steve and Doug's story just isn't funny, and it would take far better writing than Kattan, Ferrell and Steve Koren can muster to make it less than an ordeal.

Chicago Sun-Times

-

The sad thing about A Night at the Roxbury is that the characters are in a one-joke movie, and they're the joke.
A Night at the Roxbury (1998)
Despite being well into adulthood, brothers Doug and Steve Butabi still live at home and work in the flower shop owned by their dad. They exist only to hit on women at discos, though they're routinely unsuccessful until a chance run-in with Richard Grieco gets them inside the swank Roxbury club. Mistaken for high rollers, they meet their dream women, Vivica and Cambi, and resolve to open a club of their own.