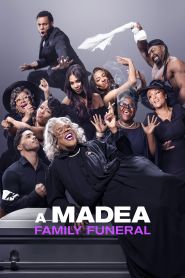 General Information
Glossary: A
Released Year: 2019
Runtime: 104 minutes
Genre: Comedy
Directors: Tyler Perry
Writers: Tyler Perry
Casts: Mike Tyson, Tyler Perry, Todd Davis, Todd Davis, Cassi Davis, Aeriél Miranda, Derek Morgan, Marisol Correa, Patrice Lovely, Chandra Currelley-Young, Bobby Akers, Joel Rush, KJ Smith, David Dunston, David Dunston, Victoria Hardway, Selena Anduze, Renah Gallagher, Ciera Payton, Rome Flynn, David Otunga, Quin Walters, Vermyttya Erahn, Ary Katz, Odin Gomez, Courtney Burrell, Jen Harper, Nick Smoot, Charles Adams, Alexa Whitaker, Deedra Jordan, Christianee Porter, Darryl W. Handy, Karlton Humes, Jada Howard, Alisha 'A.J.' Blanding, Kelvin D. Armstrong, Andrea Pelican-Ray, Lanita C. Brinson, Ayana Maceida McDonald, Latrice Pace, Calvin Bernard Brown, Marissa Patrice Rouse, Derek Lamont, Monique C Baisden, Donald E. Grissom Jr., Patricia Rochelle Allen, Ericka Smith, Raechelle Lauren Garner, Erik W. Coleman, Sheena Alexandria Evans, Freshun Wilson, Tiffany Boone, Glennie Y. Williams, Zaviel Janae
IMDB: A Madea Family Funeral (2019)
Sponsored Links
Ratings
User Rating:
IMDB Rating:
4.2
Reviews
RogerEbert.com

-

I cop to laughing out loud numerous times, and I was captivated by Vianne's big "what's good for the goose" style speech at the end. If "A Madea Family Funeral" is indeed the final "Hallelu-YUHRR" for Madea, it's not that shabby an exit.

Variety

-

A Madea Family Funeral isn't good, exactly, but it's Perry good. It combines weaponized comedy and sexualized soap opera in a way that defuses all shame.

The New York Times

-

What Perry lacks in filmmaking rigor — like its predecessors, "Family Funeral" is a bit of a mess, formally and technically — he makes up for in generosity. The movie is the usual plateful of low humor and high melodrama, in no particular hurry to make its way through a busy plot.

TheWrap

-

If writer-director-star Tyler Perry makes good on his threat to make A Madea Family Funeral the final film featuring his larger-than-life comedic heroine, then Madea will going out with a whimper and not with a bang, even by Perry standards.

Rolling Stone

-

Wherever you find yourself in the Perry equation, Medea herself deserves a final high-five. Perry hints that she may come back in a younger version, not played by him. But Medea will never be the same without her creator. In A Medea Family Funeral, she hosts a memorial service that defines the term hellzapoppin. And Perry correctly and adoringly gives her the last word in which she lets all the women have for letting any damn man abuse them. Hallelujah, sister!
A Madea Family Funeral (2019)
A joyous family reunion becomes a hilarious nightmare as Madea and the crew travel to backwoods Georgia, where they find themselves unexpectedly planning a funeral that might unveil unpleasant family secrets.