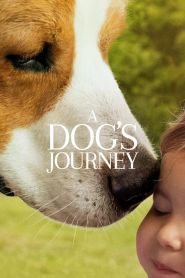 General Information
Glossary: A
Released Year: 2019
Runtime: 120 minutes
Genre: Drama, Family
Directors: Gail Mancuso
Casts: Dennis Quaid, Josh Gad, Daniela Barbosa, Marg Helgenberger, Betty Gilpin, Arlene Duncan, Jake Manley, Abby Ryder Fortson, Kathryn Prescott, Ian Chen, Henry Lau, Kevin Claydon, Cherissa Richards, Kenneth Liu, Stefanie Wiens, Angela Narth
IMDB: A Dog's Journey (2019)
Sponsored Links
Ratings
User Rating:
IMDB Rating:
7.4
Reviews
Chicago Tribune

-

The whole schtick of these movies is the treat-motivated, not-quite-getting-it doggie voice-over, performed by Josh Gad, and it lightens the film. But going dark and emotional makes the film work better than the prior two.

The Hollywood Reporter

-

Don't tell anyone I said this, but the result is not only pleasingly emotionally purgative, but also has some elements worthy of genuine admiration, despite the fact that the third word in the title is one that should now be entirely banished from the English language for its precious, psychobabble connotations.

Variety

-

One wishes the film were a bit more inventive with its dog's-eye view: the odd ground-level action shot aside, there isn't much to cinematically suggest how animals see the world differently.

Screen International

-

A Dog's Journey is certainly manipulative - humans aren't safe here either, with a significant cancer side-plot. At times, it even seems obsessed by death. Yet there's something oddly cathartic about sobbing your way through this film, with its mash-up of Buddhism and All-American values.

Austin Chronicle

-

The end result is like watching a season finale of "This Is Us" with a commentary track by Elmo. The dogs sure are cute, though.
A Dog's Journey (2019)
A dog finds the meaning of his own existence through the lives of the humans he meets.