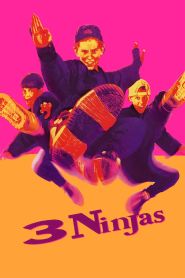 General Information
Glossary: 3
Released Year: 1992
Runtime: 84 minutes
Genre: Action, Comedy, Family, Sport
Directors: Jon Turteltaub
Casts: Clifton Powell, Patrick Labyorteaux, Al Septien, Joel Swetow, Victor Wong, Professor Toru Tanaka, Michael Treanor, Max Elliott Slade, Chad Power, Rand Kingsley, Alan McRae, Margarita Franco, Kate Sargeant, Race Nelson, D.J. Harder, Baha Jackson, Scott Caudill, Fritzi Burr, Tasen Chou
IMDB: 3 Ninjas (1992)
Sponsored Links
Ratings
User Rating:
IMDB Rating:
5.2
Reviews
Boston Globe

-

3 Ninjas is a skilled balancing act, a throwback to Disney's old live-action family films, starring and targeted to pre-teens. [07 Aug 1992, p.30]

Chicago Sun-Times

-

Despite the obvious rip-offs of other films, the cartoony, slapstick humor does generate enough charm to pull chuckles from a young audience. But too much of the action - the sword-fighting and basketball stunt scenes, especially - looks distractingly fake. [08 Aug 1992, p.26]

Los Angeles Times

-

A lively, good-looking kiddie action comedy best left to those under 10. Although their attention may wander, parents can be grateful that there's some substance as well as fun in this Disney release, for martial arts is presented as a matter of defense rather than aggression, emphasizing that it is a matter of mind and spirit as well as body and requiring resourcefulness and discipline.

Miami Herald

-

The fight sequences are well handled, the three leads are pleasant (and quite good, it seems, at the martial arts) and the violence is bloodless and amusing, with all kinds of cartoon sound effects thrown in to soften the chop-socky violence. If the audience at a sold-out Saturday afternoon showing I attended is any indication, 3 Ninjas delivers the promised action-packed, empty-headed goods. As long as your age is still in the single digits, that is. [10 Aug 1992, p.C6]

San Francisco Chronicle

-

3 Ninjas is shoddy, violent and numbingly pointless, an action comedy in which three brothers spend their summer practicing martial arts under their grandfather's tutelage. [07 Aug 1992, p.C4]
3 Ninjas (1992)
Each year, three brothers Samuel, Jeffrey and Michael Douglas visits their Japanese grandfather, Mori Shintaro whom the boys affectionately refer to as Grandpa, for the summer. Mori is a highly skilled in the fields of Martial arts and Ninjutsu, and for years he has trained the boys in his techniques. After an organized crime ring proves to be too much for the FBI, it's time for the 3 brother NINJAS! To use their martial arts skills, they team up to battle the crime ring and outwit some very persistent kidnappers!