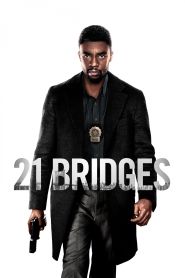 General Information
Glossary: 2
Released Year: 2019
Runtime: 99 minutes
Genre: Action, Crime, Drama
Directors: Brian Kirk
Casts: J.K. Simmons, Keith David, Suzette Gunn, Taylor Kitsch, Adriane Lenox, Alexander Siddig, Sienna Miller, Victoria Cartagena, Obi Abili, Stephen Medvidick, Chadwick Boseman, Louis Cancelmi, Stephan James, Dale Pavinkski, Joseph D Fisher, Peter Patrikios, John Douglas Thompson, Morocco Omari, Jennifer Onvie, Chris Ghaffari, Shayna Ryan, Gary Carr, Sarah Ellen Stephens, Jamie Neumann, Katie McClellan, Jamaal Burcher, Darren Lipari, Danny Plaza
IMDB: 21 Bridges (2019)
Sponsored Links
Ratings
User Rating:
IMDB Rating:
6.6
Reviews
IGN

-

While the destination is too easy to determine, this ride-along is solidly thrilling.

Entertainment Weekly

-

It's not a bad setup, and Bridges would be a better movie, easily, if it had let a little more nuance creep into its script. Instead, it lays the task squarely on Boseman's shoulders — having him fill in all those broad strokes with his own fine lines, and spraying bullets and mayhem across the rest.

The A.V. Club

-

This is a well-crafted, exciting movie, sometimes more impressive for maintaining those qualities in the face of an utterly unsurprising story.

Empire

-

With hard-boiled dialogue, sleek God's-eye views of the city and serious talent in supporting roles, you're not given a chance to get bored. Even so, an air of overfamiliarity hangs over proceedings.

IndieWire

-

Little of 21 Bridges ends up being that shocking — it's tough going when the face a character makes after accepting a phone call can so easily tip off that something's amiss — but Boseman and Miller make a solid team and creative plotting keep things moving right along.
21 Bridges (2019)
An embattled NYPD detective, is thrust into a citywide manhunt for a pair of cop killers after uncovering a massive and unexpected conspiracy. As the night unfolds, lines become blurred on who he is pursuing, and who is in pursuit of him.