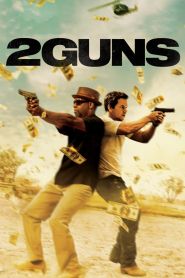 General Information
Glossary: 2
Released Year: 2013
Runtime: 109 minutes
Genre: Action, Comedy, Crime, Drama, Thriller
Directors: Baltasar Kormákur
Casts: Mark Wahlberg, Gilbert Rosales, James Marsden, Denzel Washington, Paula Patton, Fred Ward, Patrick Fischler, Michael Beasley, Edward James Olmos, Henry Penzi, Ritchie Montgomery, John McConnell, Ambyr Childers, Bill Paxton, Robert John Burke, David Kency, Robert Larriviere, Kyle Russell Clements, Bill Stinchcomb, Lucky Johnson, Tim Bell, Jason Kirkpatrick, Christopher Dempsey, Tait Fletcher, Jesus Jr., Bonnie Bentley, Jack Landry, Yohance Myles, Lucy Faust, Greg Sproles, Doris Morgado, Evie Thompson, Azure Parsons, Edgar Arreola, Christopher Matthew Cook, Lindsey G. Smith, Derek Solorsano, George Wilson, Samuel Baca-Garcia, Mark Adam, Peter Gabb, Tony Sanford, Lindsey Gort, Hillel M. Sharman, Aaron Zell
IMDB: 2 Guns (2013)
Sponsored Links
Ratings
User Rating:
IMDB Rating:
6.7
Reviews
Entertainment Weekly

-

2 Guns is a much-needed reminder that the best summer surprises can come when you least expect them.

Tampa Bay Times

-

2 Guns is a movie based on smart callbacks and sly flip-flops of loyalty, regularly interrupted by spasms of well-staged violence.

New York Daily News

-

Pure charisma is sometimes the best special effect. That's what Denzel Washington and Mark Wahlberg bring to 2 Guns, and after a season full of superhero duds, they deliver a crucial dose of cool.

Variety

-

Kormakur shows he knows his way around an action movie better than most, keeping the pace quick, the banter lively and the old-school, mostly CGI-free thrills delivering right on schedule.

The Hollywood Reporter

-

The picture survives its excesses thanks to winning chemistry between stars Denzel Washington and Mark Wahlberg, who animate banter-heavy dialogue and click so well one wonders why they haven't shared the screen before.
2 Guns (2013)
A DEA agent and an undercover Naval Intelligence officer who have been tasked with investigating one another find they have been set up by the mob -- the very organization the two men believe they have been stealing money from.