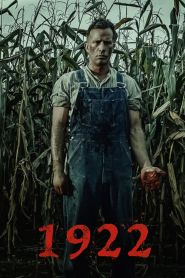 General Information
Glossary: 1
Released Year: 2017
Runtime: 101 minutes
Genre: Crime, Drama, Horror, Mystery, Thriller
Directors: Zak Hilditch
Casts: Eric Keenleyside, Neal McDonough, Bart Anderson, Thomas Jane, Michael Bean, Molly Parker, Peter New, Patrick Keating, Tanya Champoux, Brian d'Arcy James, Roan Curtis, Mark Acheson, Bob Frazer, Bruce Blain, Dylan Schmid, Graeme Duffy, Anna Louise Sargeant, Kaitlyn Bernard, Spencer Brown, Danielle Klaudt, Nikolai Witschl
IMDB: 1922 (2017)
Sponsored Links
Ratings
User Rating:
IMDB Rating:
6.3
Reviews
IndieWire

-

While nothing groundbreaking, the story mines a degree of profundity out of the traditional supernatural thriller tropes at its core.

Consequence of Sound

-

It helps that Hilditch has Jane in the central role. Along with Carla Gugino's turn in Gerald's Game, Netflix has two of the strongest performances in any King adaptation to date.

The Playlist

-

1922 is a ghastly slow burner, not the kind where nothing happens until the last ten minutes, but rather the kind that layers minor incident upon minor incident until they tally up to something major.

The Verge

-

At its best, it's a reminder that King's biggest strengths lie in his unparalleled ability to build tension, create atmosphere, and tell a direct and brutal story, not in his ability to launch profitable many-branched franchises.

Slant Magazine

-

Zak Hilditch's 1922 informs Steven King's pulp feminism with primordial, biblically ugly force.
1922 (2017)
A simple yet proud rancher conspires to murder his wife for financial gain, convincing his teenage son to participate.