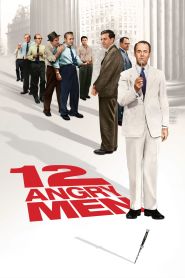 General Information
Glossary: 1
Released Year: 1957
Runtime: 97 minutes
Genre: Drama
Directors: Sidney Lumet
Casts: Lee J. Cobb, Martin Balsam, E.G. Marshall, Jack Warden, Henry Fonda, John Fiedler, Robert Webber, Rudy Bond, Edward Binns, Ed Begley, Jack Klugman, George Voskovec, Joseph Sweeney, James Kelly, Billy Nelson, John Savoca, Walter Stocker
IMDB: 12 Angry Men (1957)
Sponsored Links
Ratings
User Rating:
IMDB Rating:
8.9
Reviews
Chicago Sun-Times

-

The movie plays like a textbook for directors interested in how lens choices affect mood.

The New York Times

-

A penetrating, sensitive, and sometimes shocking dissection of the hearts and minds of men who obviously are something less than gods. It makes for taut, absorbing, and compelling drama that reaches far beyond the close confines of its jury room setting.

Slant Magazine

-

What's most interesting about the intense deliberations that ensue, specifically when a piece of seemingly indisputable evidence is brought back into question, is how a fresh angle and perspective, usually born from Juror 8's critical thinking, can permanently alter the tone of the discussion.

The Telegraph

-

Few film directors can resist the urge to "open out" a story, to broaden the view and bring in as wide a variety of sets and locations as the narrative - and budget - will allow. The genius of Sidney Lumet's astonishingly powerful 12 Angry Men is that he does exactly the opposite: he takes an already small, claustrophobic space - a jury room - and makes it even more confined.

Time Out

-

Too few films take on the art of arguing as a subject; we could certainly use more of them, but until then, Lumet's window into strained civic duty will continue to serve mightily.
12 Angry Men (1957)
The defense and the prosecution have rested and the jury is filing into the jury room to decide if a young Spanish-American is guilty or innocent of murdering his father. What begins as an open and shut case soon becomes a mini-drama of each of the jurors' prejudices and preconceptions about the trial, the accused, and each other.