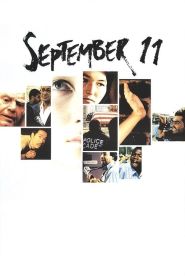 General Information
Glossary: 1
Released Year: 2002
Runtime: 135 minutes
Genre: Drama
Directors: Sean Penn, Ken Loach, Alejandro González Iñárritu, Mira Nair, Youssef Chahine, Amos Gitai, Shōhei Imamura, Samira Makhmalbaf, Idrissa Ouedraogo, Danis Tanović
Casts: Ernest Borgnine, Tanvi Azmi, Maryam Karimi, Emmanuelle Laborit, Jérôme Horry, Keren Mor, Tomer Russo, Kapil Bawa
IMDB: 11'09"01 – September 11 (2002)
Sponsored Links
Ratings
User Rating:
IMDB Rating:
7.0
Reviews
Chicago Tribune

-

An often brilliant, always revelatory, deeply interesting omnibus film.

The New Republic

-

Obviously the variety that was bound to result was part of Brigand's plan. The astonishment is that almost all of the assemblage is fascinating, very little is poor, and one segment is superb.

Christian Science Monitor

-

They vary enormously in style, quality, and ideas, but the best of them -- by Gitai, Chahine, and Iñárritu, among others -- pack an enormous emotional and intellectual punch.

New York Daily News

-

Some segments are anti-American, but to concentrate on that is to miss the variety, depth of opinion, and fierceness of the emotions that drive each director.

TV Guide Magazine

-

The filmmakers' attempts come to terms with a recent catastrophe of indeterminate meaning but global consequences are often fascinating.
11'09"01 – September 11 (2002)
11 directors show their view on the terrorist attacks on the world trade center in New York.