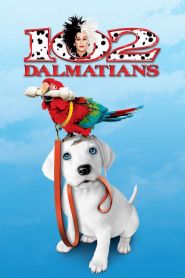 General Information
Glossary: 1
Released Year: 2000
Runtime: 100 minutes
Genre: Adventure, Comedy, Family
Directors: Kevin Lima
Casts: Tim McInnerny, Ioan Gruffudd, Gérard Depardieu, Glenn Close, Alice Evans
IMDB: 102 Dalmatians (2000)
Sponsored Links
Ratings
User Rating:
IMDB Rating:
4.9
Reviews
Boston Globe

-

It is Close's performance that gives the movie its oomph and will leave adults with smiles as wide as the kids'.

Chicago Sun-Times

-

Doesn't really seem necessary.

Baltimore Sun

-

It should come as no surprise that the dogs are as cute as caninely possible. But is it conceivable that, once you've seen 101 adorable dogs, 102 seems redundant?

Variety

-

A pale reworking of its predecessor.

Seattle Post-Intelligencer

-

Harmless and thoroughly unmemorable: colorful, cute, fast paced, and about as involving as an amusement park ride.
102 Dalmatians (2000)
Get ready for a howling good time as an all new assortment of irresistible animal heroes are unleashed in this great family tail! In an unlikely alliance, the outrageous Waddlesworth... a parrot who thinks he's a Rottweiler... teams up with Oddball... an un-marked Dalmation puppy eager to earn her spots! Together they embark on a laugh-packed quest to outwit the ever-scheming Cruella De Vil